FreeRunner
From GeoSharing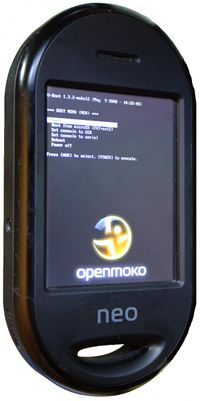 The Neo FreeRunner is the second phone designed by Openmoko Inc. to run Openmoko softwares. It is a Linux-based touchscreen smartphone whose production began in June 2008. Its predecessor was the Neo 1973 (GTA01) commercialized in Summer 2007. The Neo FreeRunner (GTA02) is the device for which we have developed the GeoSharing application.
The main specifications of the Neo FreeRunner are:
a weight of about 184 grams
a 400MhZ ARM processor
128 MB RAM memory
256 MB flash memory
a micro SD card slot
a 480x640 pixels touchscreen
an internal GPS module
802.11 b/g Wi-Fi
bluetooth
two 3D accelerometers
tri-band GSM and GPRS
USB connector
The Neo FreeRunner has two external buttons and three connectors
1) The power button is used to switch the device on or off. A brief press on the button powers on the device. A long press on the button shuts it down.
2) The USB connector is used for two purposes:
recharge the battery via a sector adapter connected to a power supply or via a classical USB cable connected to a computer;
exchange data with a computer.
3) The external GPS antenna connector can be used to plug an external antenna in to improve the reception quality. Due to the smallness of the Neo FreeRunner (and its components such as the Wi-Fi and GPS antennas), the GPS accuracy is quite limited. The reception quality is thus improved when an external GPS antenna is plugged in.
4) The aux button is used in combination with the power button to access the boot menu and to browse the items of this menu.
5) The 2.5mm phone jack connector allows users to plug an headphone set in.